Santarli clinches the WSH Innovation Award 2019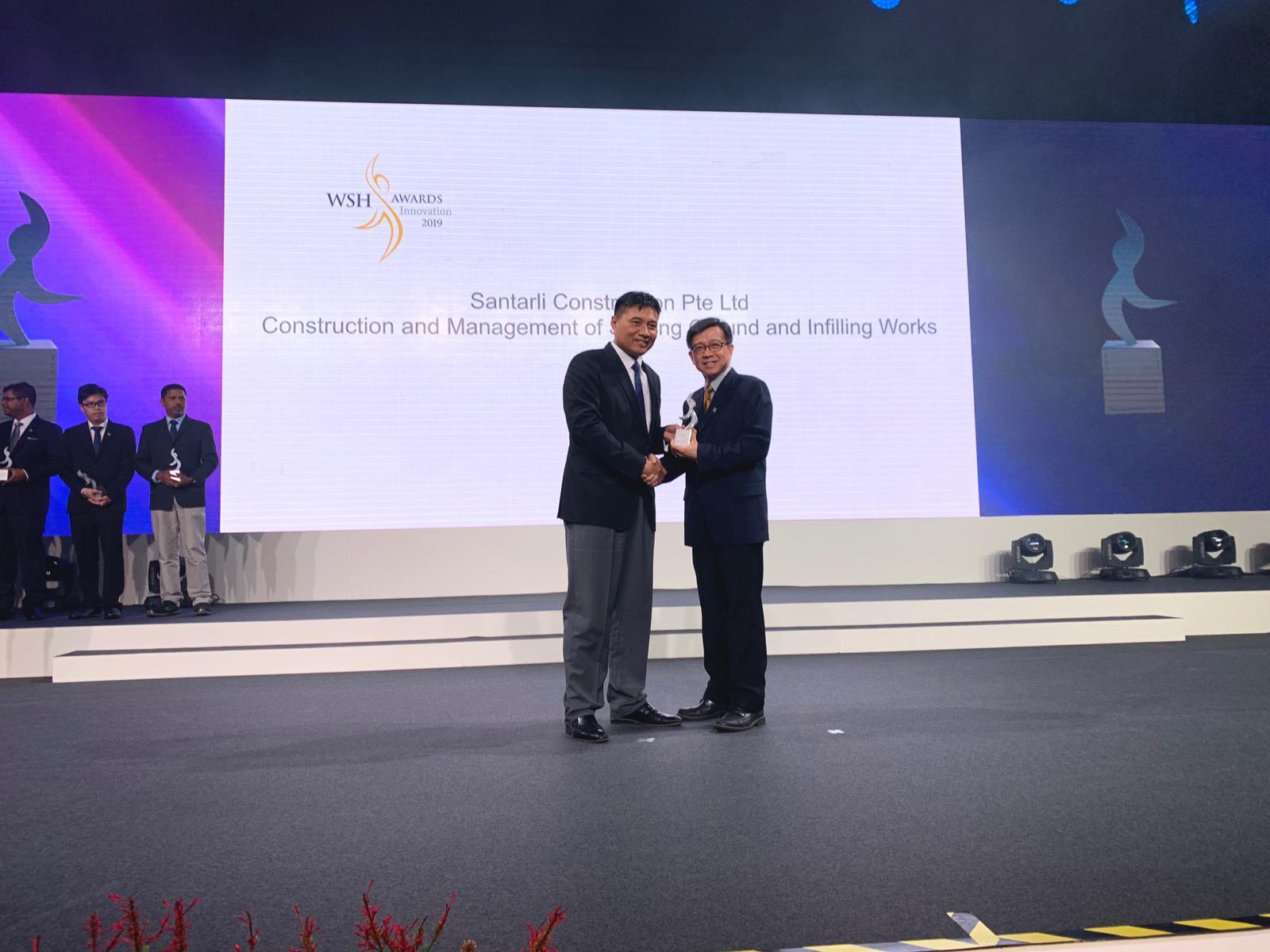 The annual Workplace Safety and Health (WSH) Awards aim to recognise companies and individuals who have upheld safety and health standards at their workplaces. This year, Santarli has been awarded the WSH Innovation Award 2019 for the Construction and Management of Staging Ground and Infilling Works Project.
Santarli's efforts in developing creative and viable solutions to tackle WSH hazards in terms of safety, health and productivity have been recognised through the construction and implementation of the Direct Discharge Platform where it overcame the challenges in the disposal of excavated materials.
Excavated materials from construction sites are transported to construction staging grounds to be recycled for infilling works. Traditionally at these staging grounds, the truck drivers will have to wait up to four hours as there is usually a long line of trucks waiting to dispose of the materials. The drivers are also exposed to fatigue, mental stress, and high levels of noise and air pollution while being in the queue. Also, there is the risk of trucks overturning during the transfer process from the tipper truck to the disposal barge.
The disposal process was tedious, inefficient and hazardous. Hence, a solution through the Direct Discharge Platform was innovated by Santarli. The direct discharge platform comprises a cantilever platform placed on top of the floating barge. By placing the platform on a floating barge, it ensures that the excavated materials are being deposited into the centre of the hopper barges. The floating barge will also rise and fall according to the seawater tide to make sure there is a safe distance between the platform and the hopper barge. Safety features such as the wheel stopper at the end of the platform will prevent the trucks from tipping over during the unloading process.
The direct discharge platform has tremendously improved the productivity of the disposal process and truck drivers. With the previous method, the process takes two trucks every 1.4 minutes but with the Santarli's implementation, four trucks can unload in every minute and each cycle only takes 15 minutes to complete. The overall disposal rate per platform also significantly increased from 12,000 tons to 32,000 tons per day.
"Our people are our greatest asset. Their safety and well-being in the workplace are the cornerstones in the formulation of our objectives, policies and work procedures. Safety always comes first."
Mr Andrew Seet, GM/Director of Santarli